"Navigating the Financial Planning Maze"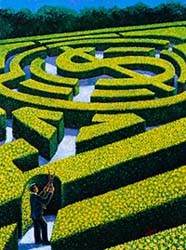 In today's complex world of investment opportunity, even the most knowledgeable investors find it difficult to develop and implement a well-structured investment plan on their own. As experienced investment professionals, we are committed to understanding your unique needs, and providing the time and resources to help you formulate an investment strategy designed to help you protect and grow your wealth.
Athena Financial & Insurance Services, Inc. (Athena) provides a variety of financial planning and investment advisory services to individuals, business owners, corporations, pension and profit sharing program and estates and trusts. Athena also provides a full range of administrative and design services for pension, profit sharing and 401 (k) programs.
Led by CEO, Jerry J. Sollazo, CLU, ChFC, Certified Financial Planner Certificant we are committed to providing you with the highest level of personal service over the long-term. Our programs are commonly known strategies designed around your goals and objectives. Through us, you now have access to the disciplined investment process employed by many of America's most respected companies, and access to globally prominent investment managers to implement your personalized asset allocation policy.
Ours is a personalized process designed for successful investing. We live in a world ripe with investment opportunities, offering a myriad of investment avenues to pursue. While each may promise the potential for reward, a singular and narrowly defined investment approach may be limiting. Selecting the right combination of these opportunities is the challenge.
Achieving financial success is a complex and confusing process to even the most experienced investor-one that requires a significant amount of time, knowledge, and resources. Many affluent investors demand a different investment approach, one that elevates their portfolio beyond one-dimensional product strategies and leverages the expertise of highly skilled professional investment managers.
Athena offers just this kind of approach. Our services are designed to help you protect and increase your wealth by delivering the potential for increased after-tax returns, with an unprecedented level of personalized service. We're professionals who are experienced in understanding the unique needs of affluent investors and in formulating investment strategies designed to help them achieve financial success.
What distinguishes our program is its personal emphasis. It is built around you your goals, your time frame, and your tolerance for risk. As your needs change, we believe our unique ongoing management process helps your investment portfolio evolve with you. It is not a get-rich-quick strategy or a "hot-tip" investment product. Instead, we employ a disciplined process that sophisticated institutional investors have followed for decades in managing their investments.
We believe every investor is an individual with different needs and different objectives. Whatever your objective--wealth preservation, asset growth, current income or minimizing taxes--it is critical to discuss them in detail with a knowledgeable investment professional before you begin investing. We will help you determine whether you need investments that produce income, growth or a combination of both.
We follow a well-defined process to increase the probability that you will meet your financial objectives. Your portfolio strategy begins with a personalized investment analysis, then graduates through the portfolio construction process, in which multiple asset classes, multiple style allocations and multiple money managers are combined to meet your investment objectives. The result is a well-tuned, five-step asset management process designed to respond to your individual needs while also responding to the dynamics of capital markets.
Your investment objectives will also help define your investment time horizon and risk profile. It is also important to understand your "risk tolerance" towards investing. That is, how much risk or variability of return are you comfortable with?
The amount of time you have until you need to access your investment, your so called "time horizon", seriously affects your portfolio strategy. An investor with a longer time horizon can usually afford to assume greater short-term risk in exchange for potentially greater long-term growth. Stocks, for example, have historically experienced greater short-tern volatility, but over the longer term, they have outperformed bonds and other fixed income investments. If you have a longer time horizon, you may want to take advantage of the opportunities provided by investing in stocks. But regardless of the type of assets held in your portfolio, we believe time is on your side. The longer you hold any particular asset class, the less the expected variation in your return.1
A central concept of personal financial planning and investment management is asset allocation. Asset allocation is essentially the division of your assets among a mix of investments, in proportions suitable to your personal situation. The principle is based on the theory that asset types respond differently to various economic environments. Asset allocation may offer a better relationship between risk and return.
Different types of investments have substantially different risk and reward characteristics: When certain asset classes react positively in the financial market, others may react negatively. For example, with stocks, an ideal environment is usually accelerating growth with falling inflation, while slowing growth with falling inflation is typically not so good. With bonds, on the other hand, rising inflation is normally bad, while falling inflation is usually good.
We believe the key to investment success is to have a well-diversified portfolio with your investments spread among several asset classes.
While diversification through an asset allocation strategy is a useful technique that can help to manage overall portfolio risk and volatility, there is no certainty or assurance that a diversified portfolio will enhance overall return or outperform one that is not diversified.                                                                                                      
1http://www.ehow.com/info_8164929_longterm-returns-stocks-vs-bonds.html